WCLN updates default test passwords in the course releases each year. Districts are encouraged to use their own passwords in courses.
In order to change the passwords for release, we've developed a tool that allows a logged-in admin to change all the passwords in a course.
There is an option to "Update blank passwords". If this option is NOT enabled then only quizzes/tests that currently have passwords will be updated to the password you provide; those with no current passwords will continue to have no passwords.
---
Adding the Plugin to your Site
Visit the Moodle Plugins Directory.
Click 'Install now'.
or
Visit the Moodle Plugins Directory.
Click 'Download' to download a zip folder containing the plugin.
Extract the files from the zip.
Place the folder 'quizpasschange' in 'admin/tool'.
Login to your Moodle site as an administrator and install the plugin.
---
Setting Passwords
Login to site as an admin.
Look under Site administration > Plugins > Admin Tools
Click on "Quiz Password Change"
Choose course and new password and "Apply"
---
Screenshot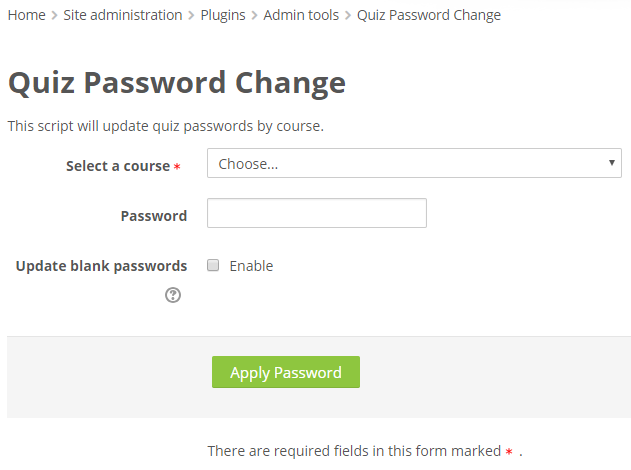 Last modified: Saturday, 2 September 2023, 7:04 AM