To Customize or Not?
One of the advantages of moving to SF LTI is the greater ability to customize and enjoy the LTI benefits of consortium collaboration. Of course, this combining the benefits is only successful if you develop strategically. If you do too much customization, you may regret losing connections to all of the ongoing updates and improvements to resources.
Not good reasons to customize a reading / lesson / question:
A video is missing. Post to the discussion forum (include a good replacement if possible). This way, everyone benefits from the catch and you maintain update connections.
You found a typo or mistake. Much better to post the fix for the benefit of everyone and not lose other updates.
You have a better idea for an example explanation. Much better to post idea in the Discussion Forum. Best case is that it gets fixed in master and you maintain your link to the updates. Worst case is that it's starts a good discussion where you understand the rationale behind the choices made.
Good reasons to customize a reading / lesson / question:
You wish to supplement a First Peoples section with some locally-focused information.
You wish to add to a topic, due to a recent local event or personality.
You wish to experiment with your students before you "bring it to the group."
Topics

(click topics to jump to details)
:
---
Q1:
StudyForge quiz grading workflows
To do anything in StudyForge, you first need to authenticate. Click any "Book" icon (in Moodle) or "Lego piece" icon (in Brightspace) in a StudyForge course to log in to StudyForge.

Quiz grading workflows
Brightspace currently has a bug/missing feature and does not show StudyForge quizzes in QuickEval when they need to be graded. (StudyForge flags the quizzes as needing grading, but Brightspace does not show these quizzes in the grading tools.) There are two ways to know students have completed quizzes that need grading, both of which also show auto-graded quizzes. All quizzes will update their respective grades in the Moodle/Brightspace gradebook automatically when they are graded in StudyForge.
StudyForge Report Dashboard
You can access your dashboard through the StudyForge UI by clicking the

"sandwich" menu and selecting View Report Dashboard.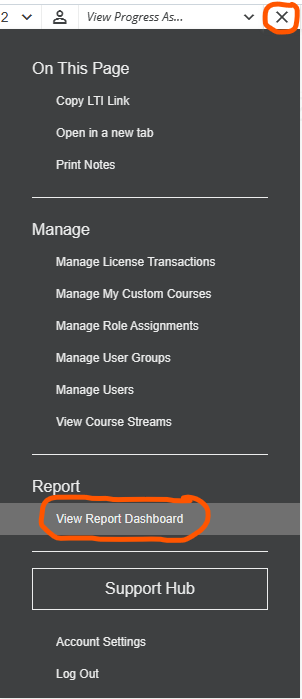 You can also access this, once you are authenticated with StudyForge, by using this link: https://tool.studyforge.net/report/dashboard
The report dashboard shows quizzes needing grading in the top panel, and all quizzes (including automatically graded quizzes and previously graded quizzes) in the bottom panel. In the bottom panel, work needing grading is highlighted in red.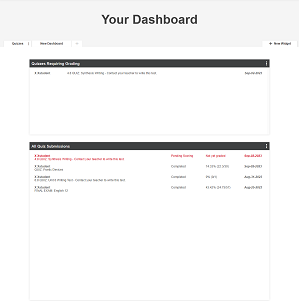 A larger dashboard can be accessed by selecting "Open in a new tab" on the

"sandwich" menu.
Note for districts where teachers do not set up their own classes: StudyForge only connects courses to teachers when teachers click a StudyForge link in each course for the first time. The Report Dashboard will not show courses that have not been connected to the teacher.
StudyForge Automated Emails
StudyForge sends automated emails at various possible intervals. Please see Q2: How to Change Email Notification Settings for details.
---
Q2:
How to Change Email Notification Settings
By default, StudyForge sends an automated email every time a quiz is completed on the platform, but also has options for daily digest*, weekly digest*, or no email notifications.
Please note that due to email spam filters, receiving these emails can never be 100% dependable and in some cases may not even appear in your spam folder.
To change your email settings, click the

"sandwich" menu in a StudyForge window and select Account Settings.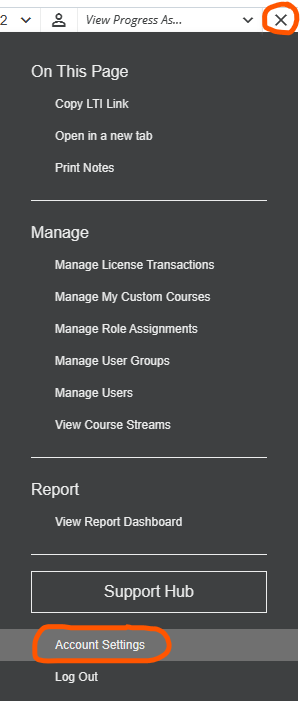 In Account Settings, select Change Email Subscriptions, select your desired email notification frequency, and Save Email Preferences.
* At the time of writing (September 8, 2023), the Daily Digest and Weekly Digest are bugged and send each quiz as an individual email. StudyForge is working on a fix.
---
Q3:
How to Edit a Question
This functionality is in testing by StudyForge and should launch in early October.
---
Q4:
How to Edit a Quiz
This functionality is in testing by StudyForge and should launch in early October.
---
Q5:
How to Edit a Lesson
This functionality is on StudyForge's "roadmap". At this point in time, there is no estimated timeline for delivery.
---
Last modified: Wednesday, 13 September 2023, 8:36 PM